Dubai's only Farmers' Market…a review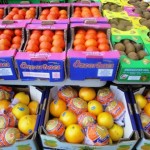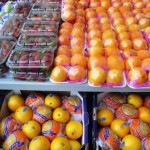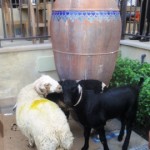 Dubai; You may recall FooDiva's recent posting previewing Dubai's only Farmers' Market. Well here it is today, in all its colourful glory. Organised by Baker & Spice at Souk Al Bahar, farmers from across the U.A.E were selling their fresh, and in some cases organic fare – predominantly fruit, vegetables and herbs – but eggs, buttermilk, honey and breads were also on hand. Much smaller than I expected, but hopefully with increased demand, and as the weeks progress, we will see more stalls setting up.
I've just bitten into an organic tomato from Abu Dhabi's Mazaraa farm – so sweet and juicy it needs no accompaniment. Half a dozen of these, plus a punnet of cherry tomatoes, some Lebanese pears, a dozen organic eggs, a pain de mie and some dried sugar-free strawberries came to a grand total of AED72. Bizarrely goats, sheep, chicken and rabbits – all alive – were sheltered in a corner. Somehow, I doubt anyone would want to purchase them for dinner tonight.
The market runs every Friday from 10-5, so I urge you to pop in next weekend – it needs your custom to survive. Oh and I nearly forgot, Baker & Spice's eggs benedict; poached eggs with crispy dried beef and hollandaise sauce on toasted brioche is simply divine.
A bientôt.
FooDiva. x